//FIRST IMAGE ONLY // $first_id = intval($id_list[0]); //$first_image = wp_get_attachment_image_src($first_id, 'large'); ?>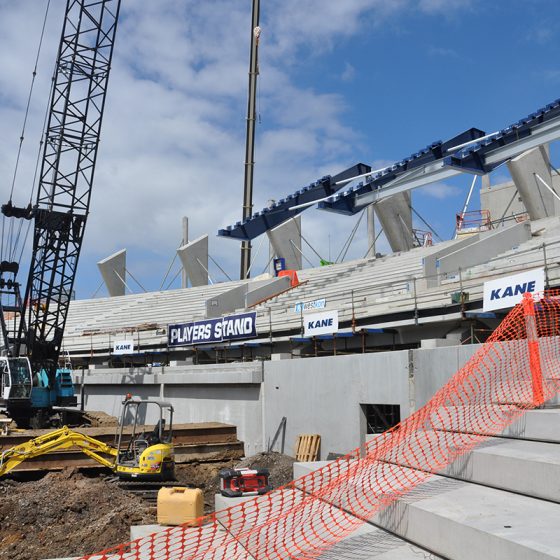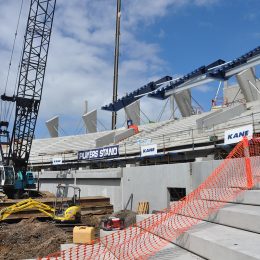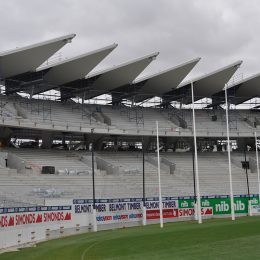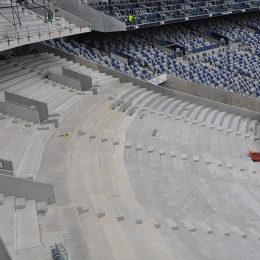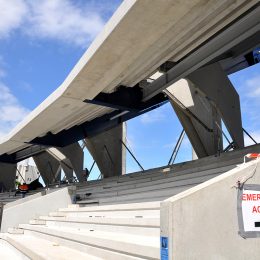 Client
Kane Constructions
Job Description
Supply & Installation of Complete Precast Structure incl. Seating Plats & Hollowcore
Scope
240 no. Panels, 3,800m2
60 no. Beams, 660 tonnes
70 no. Columns, 570 tonnes
640 no. Seating Plats, 3,000 tonnes
300 no. Hollowcore Planks, 5,000m2
450 no. Steps, 140 tonnes
Westkon Precast secured a challenging contract for work on the Simonds Stadium southern stand redevelopment at Kardinia Park, Geelong. The redevelopment will see a new 11,000-seat grandstand added to the Cats' home-ground with improved spectator facilities and community benefits. Westkon's contract is for the design, manufacture and installation of precast concrete elements for the complete structure.
The company has been around for 25 years and has worked on recent projects such as the New Melbourne Market, Royal Children's Hospital, Regional Rail, Peninsula Link Freeway and the M80 Ring Road redevelopment. Westkon has also supplied precast units to the previous three stages of development at Simonds Stadium.
The latest Simonds Stadium job, however, involves a complex new challenge the company has keenly taken up. They have been given an in situ concrete design for the stadium structure which they must convert to a precast concrete unit design. It's almost like a massive jigsaw puzzle. "We have had to carefully coordinate designers and drafts people to ensure that all the elements fit together correctly in a workable sequence," explains Westkon Project Manager, Steven Moore. "The project involves many types of precast elements all in the one building. It will utilise all our factories' capabilities."
The precasting was done at Westkon's factories at Sunshine and Melton and then was transported to Geelong for a highly coordinated installation job. Elements used include pre-stressed seating plats, HOLLOWCORE pre-stressed planks, pre-stressed beams, precast concrete floors, panels, walls and columns.
The company has been innovative in order to maximise efficiency and save installation time. Precast concrete raker beams and axe head columns are some of the nonstandard elements that are normally made in situ. Westkon, however, had precast and delivered them with a smooth installation which was completed prior to Christmas.