//FIRST IMAGE ONLY // $first_id = intval($id_list[0]); //$first_image = wp_get_attachment_image_src($first_id, 'large'); ?>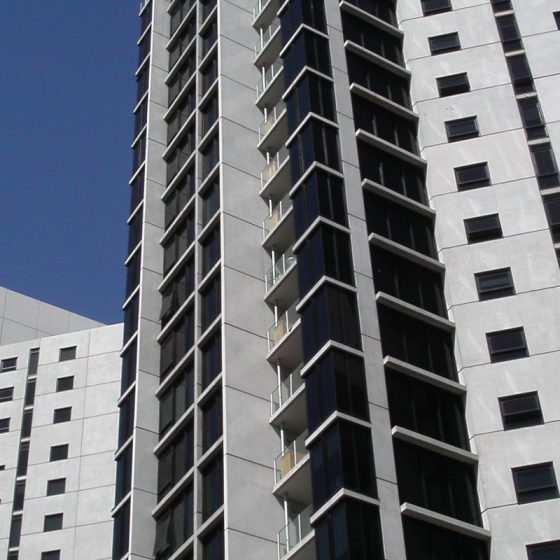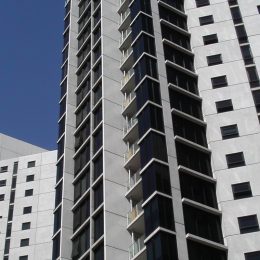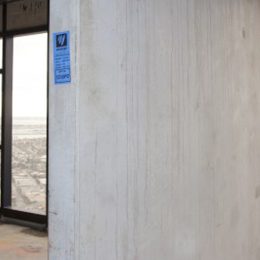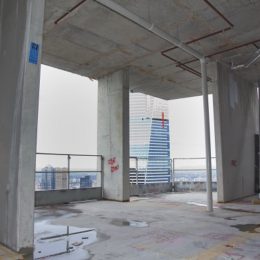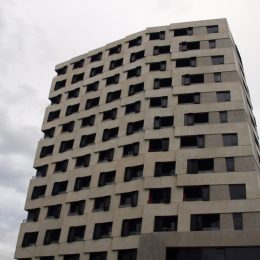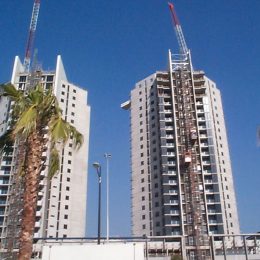 Prima Tower Apartments
| | |
| --- | --- |
| Client | Brookfield Multiplex |
| Job Description | Supply Precast Panels |
| Scope | 2,000 no. Precast Units, 18,000m2 |
For Westkon Precast, working on the third tallest residential tower in Australia was both an honor and a challenge. Prima Pearl Tower reaches 255m high and rises over Melbourne's Southbank precinct. Underneath the glossy exterior is thousands of internal precast structural walls proudly manufactured by the team at Westkon Precast.
The exterior design of the tower is rounded to reduce wind pressure around the building, so as each floor was added the shape of the building curved both in and out. With little repetition between floors, the concrete panels for each level needed to be manufactured to exact measurements. Cycle times between floors were critical so it was important that there weren't any delays.
Starting at level 10, Westkon Precast used their 26 years of experience to manufacture the concrete panels for the 62 levels above. The sheer scale of the building meant that it was crucial for Westkon Precast to synchronise the manufacturing program at their factories, with progress on site. With 1 floor level completed approximately every week, each panel was required to arrive on site within a strict delivery window. Other possible delay risks were mitigated by Westkon storing atleast 3 floors of precast panels in advance of the structure on site, it guaranteed delivery of the panels every week.
While the type of panel used was standard, the difference with Prima Pearl was the requirement to manufacture each panel to specialised structural specifications within a strict time frame and in very large volumes. Specially selected, high performance 80 MPa concrete was used for this project.
Westkon Precast was chosen for the Prima Tower project as a result of their reliability, extensive capabilities and competitive package. With two large precast facilities located in Sunshine and Melton, Westkon Precast has the expertise and capacity to supply precast to any commercial, civil or major project.
Other significant projects include Residential towers in the CBD Abode, Concavo, Upper West Side, Melbourne One, Australis and Tower 6 Southbank. The team has also supplied feature architectural panels to Monash Uni Residential (3000 panels in 4 months), Geelong Hospital, Epworth Hospital Geelong, Ballarat Hospital, Commercial Road Parahn as well as the supply of Bridge Girders and Parapets to civil projects on the Western Highway, Princes Highway Gippsland, Webb Dock and Melbourne Airport.
Melbourne 1, Australis & Upper West Side Apartments
| | |
| --- | --- |
| Client | Brookfield Multiplex |
| Job Description | Supply Precast Panels & Columns |
| Scope | 3,500 no. Precast Units, 34,000m2 |
Eminence Apartments
| | |
| --- | --- |
| Client | Crema Construction |
| Job Description | Supply Architectural Precast Panels, Columns & Beams |
| Scope | 770 no. Precast Units, 4,500m2 |
Empire Apartments
| | |
| --- | --- |
| Client | Probuild Constructions |
| Job Description | Supply Architectural Precast Panels & Columns |
| Scope | 2,300 no. Precast Units, 15,300m2 |
Jaques & Living Carlton Stage 4 Apartments
| | |
| --- | --- |
| Client | Hacer Constructions |
| Job Description | Supply Precast Panels |
| Scope | 1,900 no. Precast Units, 23,800m2 |
Abode Apartments
| | |
| --- | --- |
| Client | Probuild Constructions |
| Job Description | Supply Precast Panels |
| Scope | 1,500 no. Precast Units, 19,600m2 |
Concavo, Convesso, Serrata, C5, C6, C8, C11, Mosaic, Montage, Merchant, Arkley, Boyd & Palladio Apartment Towers – Docklands
| | |
| --- | --- |
| Client | Lend Lease |
| Job Description | Supply precast panels & colums of various colours, textures and strengths |
| Scope | Approx. 12,000 no. Precast Units, 150,000m2 |