//FIRST IMAGE ONLY // $first_id = intval($id_list[0]); //$first_image = wp_get_attachment_image_src($first_id, 'large'); ?>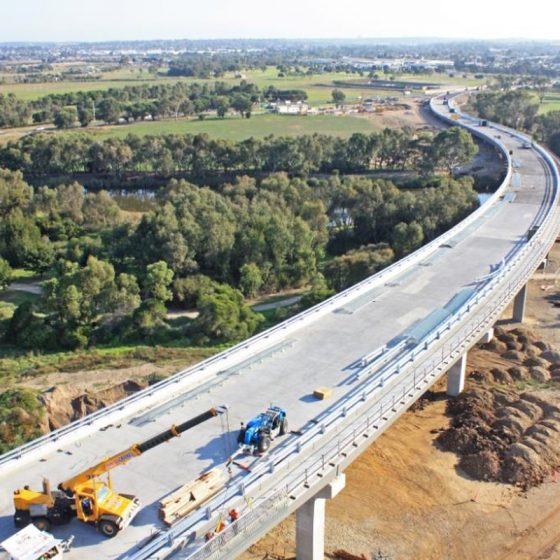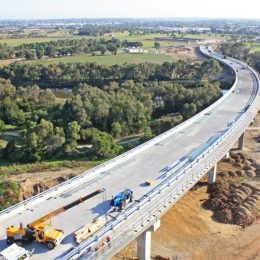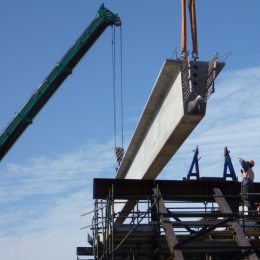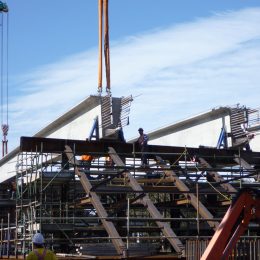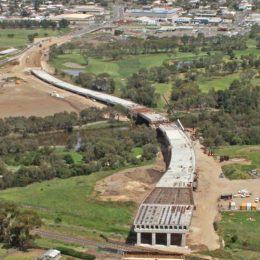 Client
McConnell Dowell
Job Description
Supply of T-Roff Beams
Scope
1800 T-Roff 104 no. units, In Total 6,250 tonnes
1350 T-Roff 42 no. units, In Total 2,300 tonnes
Westkon Precast prepared some of the largest concrete precast beams ever to be manufactured in Victoria for the bridge on the Breakwater Road upgrade. With several weighing in at just under 100 tonnes, it was a big job. 104 precast beams ranging from 25 to 40 metres long x 1800mm deep were moulded – some of these beams were also fitted with special post-tensioned ducts. Another 42 precast beams were made with an average length of 30 metres and 1350mm deep. "The main river span of 60m was achieved by installing 41m long 1800 deep beams on temporary works while cantilevered Piers of 10m span were poured insitu and then post-tensioned together with the beams."
Westkon Precast specialise in providing high quality precast concrete products and precast concrete structures – they also offer fully integrated design and construct services for precast structures. With architectural designs becoming increasingly ambitious, Westkon Precast can plan and manage projects with existing structures and potential building projects.
As well as prestressed bridge beams, planks, off and on-structure precast road barriers and parapets, Westkon Precast are adept in hollowcore floor planks, prestressed stadium seating, sound and precast traffic barriers, precast stairs/landings and both architectural and structural precast panels and columns.
The company's commitment to sustainability means that moulds such as those used on the Breakwater Road Upgrade are reused – Lorenzo Cremasco, Director of Westkon Precast commented; 'These are standard bridge beam profiles used throughout Australia, we have the moulds as permanent casting forms/structures that we use on most beam projects'.
All of the precast structures are manufactured locally with local materials allowing the concrete products to be made quickly and efficiently, saving time on site. Recycled materials are used in the concrete mixes, minimising waste. The precast concrete structures perform well acoustically, are fire resistant and highly durable with minimal future maintenance.