Innovative in-house solutions for effective project management
Working to grand scales doesn't mean that we lose sight of the customer. With this in mind, we have developed our own job tracking software called Westkonnect.
Westkonnect is a cloud based program that monitors our diverse range of products and their movements, and provides all of our staff members with the feedback required to make informed decisions and manage projects efficiently.
We assign a dedicated Project Manager to each job, who is responsible for supervising and assessing the project right through the construction process. If further professional support is needed, we have specialised teams to provide engineering prestressed concrete design, construction and installation service.
This allows us to deliver finished products that save our clients time and money with minimum on-site disruption.
Efficient delivery for every project of every size
Recognising that transport is an integral part of the supply chain in construction projects, we have invested in our own fleet of vehicles, known as Westkon Logistics.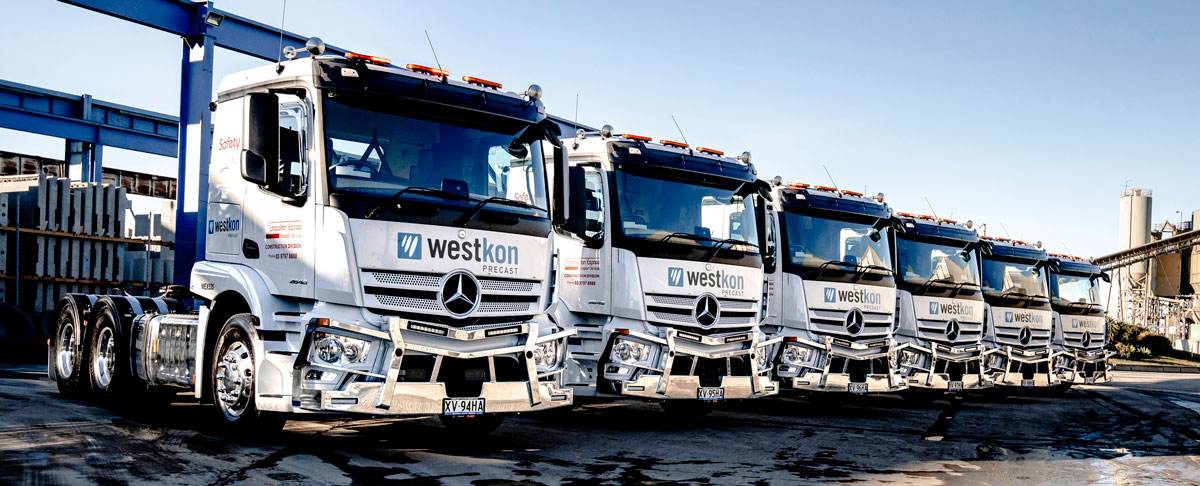 Westkon Logistics assists in the seamless coordination of each project's logistics requirements, resulting in efficient production and delivery for every project of every size.
Extensive reinforcement facilities to guarantee supply
Reinforcement is one of the most vital parts in concrete precasting. As such, we have invested in our own reinforcing facilities to ensure our projects receive the best possible reinforcement supply.

Catering for all concrete requirements
Our Westkoncrete manufacturing plant has been established to supply the highest quality concrete within our production facility. With the high tolerances necessary for producing components such as hollowcore concrete, our batching facility can cater for all of our requirements.

Choose versatile and durable concrete from Westkon
Discover how our precast concrete can reduce on site labour, mitigate building risks and ensure successful completion of your next project. Call the Westkon team today on +61 3 8746 1300 to discuss the buildability of your upcoming project.